Linemark presented with second Queen's Award at glittering ceremony
Jan 31, 2017
---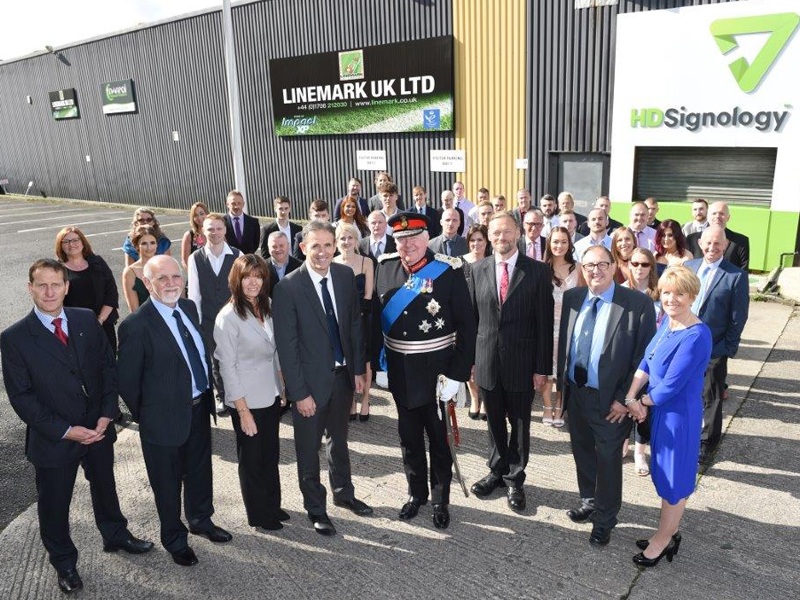 We were delighted to be presented with the Queen's Award for International Trade during a glittering ceremony.
Our representatives were presented with the coveted award by the Lord-Lieutenant of Lancashire, Lord Shuttleworth, at St Mary's Chambers in Rawtenstall.
Linemark and group companies, HD Signology and N-Virol are based in Rossendale, Lancashire and Linemark manufactures world-leading line marking products, which are sold through a network of distributors to customers around the world.
Overseas sales have grown by over 80 per cent over the last three years with an increase in UK employees and overall sales. Currently the Linemark Group exports to 34 countries and has a single distributor for each of its main markets in USA, Australia, South Africa, Denmark and France.
The Queen's Award for International Trade was awarded for outstanding growth in overseas sales over the last three years.
To celebrate the achievement, staff from Linemark, HD Signology and N-Virol were given the day off work to attend the presentation of the award, alongside suppliers, local dignitaries and distributors from the UK and around the world.
Director Tony Holt said: "Being presented with this award is a huge honour for everyone at Linemark, HD Signology and N-Virol, and the celebration was a chance to reflect on all the hard work and progress that has been made.
"The Queen's Award is probably the most prestigious honour a business can receive, and to pick up a second is an outstanding achievement for everyone involved. Winning the award has been a real team effort and the team here at Linemark is like a family, every single person is passionate about the business."
Speaking at the award ceremony the Lord-Lieutenant of Lancashire, Lord Shuttleworth said: "This is the second time that I have had the privilege of presenting a Queen's Award to Linemark.
"It's probably one of the most enjoyable duties that a Lord-Lieutenant has to carry out in the county, to go around successful companies in Lancashire, to see modern technology, and some good old fashioned hard work, and to be able to present this award on behalf of the Queen.
"Queen's Awards are hard to win and they are very rare; Linemark is one of only 25 winners in this International Trade section in the North West. I think that is a measure of the success achieved, and of the significance of this award."
Linemark was established in 1995 and supplies line-marking paint products and machines to major international stadiums.
HD Signology, a specialist in signage and graphics, offers everything from commercial and stadium signage through to all forms of surface graphics.
N-Virol produces a range of building restoration and preservation products, and a full range of basement waterproofing, basement tanking and damp proofing materials for the construction and DIY industry.
The company won the Queen's Award for Innovation in 2011.